Urine is analyzed each time you use the toilet
By now we're getting used to smart toilets since ever more companies are trying to conquer the market. And as we already said, the West is gradually getting closer to the East when it comes to smart toilets.
The latest technology applied to a toilet can now scan your urine for early signs of diabetes, chronic kidney disease, bladder cancer, UTIs (urinary tract infections), and dehydration, every time you go to the restroom.
The world's first A.I. and spectroscopy-based device, according to the Israeli startup that created this new technology, provides continuous and non-invasive monitoring of urine output as a reliable substitute for conventional chemical or microscopic examination.
According to this article, real-time measurements of the way light reflects off the flow of urine from sensors installed in toilet seats enable the precise diagnosseveralber of ailments. The 3,000 molecules in pee are examined optically since they all interact with various light frequencies.
In Holland, the technology is already being applied to elderly patients in assisted living homes, where it continuously collects more and more information as they use the restroom.
"We're trying to catch diseases before you go to the doctor", Guy Goldman, CEO of Olive Diagnostics, which is behind this technology.
"We're enabling the medical community to begin doing preventative medicine versus reactive medicine".

The Olive KG is a device that transmits 64 light frequencies through urine while it is moving, passively detecting the molecules and using the information gathered to pinpoint potential health issues. In addition, Olive incorporates a tiny spectrometer, a tool for identifying and analyzing electromagnetic radiation's wavelengths, into a raised toilet seat.
The sensor, which can be put on any toilet, features photodiodes that gauge how much light is entering.
The Olive KG measures a number of parameters, including pH, protein, red blood cells, nitrates, and urine density (volume, pressure, color, frequency).
Urine analysis has remained outdated despite advances in science and technology, claims Goldman. Hospital lab personnel continue to dip sticks into containers of urine. That's why the company's current focus is on providing accurate urinalysis.
The accuracy of standard approaches for detecting particular molecules can be as low as 70%. However, he asserts that Olive, in comparison, achieves perfect accuracy since it tracks each time a patient uses the restroom as opposed to just analyzing one sample.
No other company does urinalysis using optics but optical urinalysis has potential uses in nutrition, mental health, and other areas. It can also monitor the body's main stress hormone, cortisol, in the blood. However, only items that pass via the kidneys can be detected, thus it can't detect everything, such muscle problems.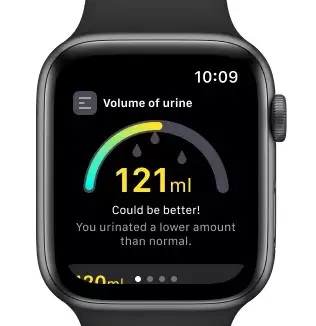 Data collected are then sent to clinical departments of assisted living homes directly where Olive KG operates. Urine results can be also displayed through Apple Watch using Olive WatchOS app which links to the toilet.
By the end of 2023, the company will begin selling a new sensor directly to customers, along with an app that offers user diagnostics.
Olive has only lately begun exporting its products to the US, where they are being tested in a sizable assisted living home and are being used to keep track of people on the East Coast who have mental problems.