A rare but dangerous event
The strange episode was reported when officials responded to a call about a lightning strike at an apartment complex in Okmulgee (Oklahoma), roughly 40 miles south of Tulsa, according to the Okmulgee Fire Department.
When firefighters arrived, they discovered that lightning had struck the roof. Surprisingly, the lightning struck the exhaust fan and extended down to the toilet in one of the units.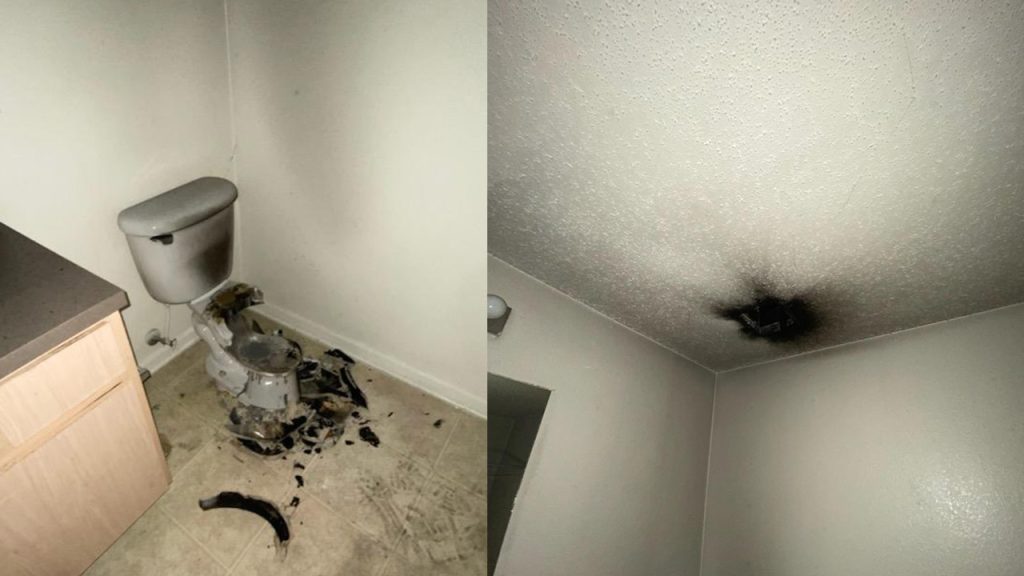 "The fan was destroyed and the toilet bowl was severely damaged", Okmulgee's Fire Chief Dewayne Hurt told FOX Television Stations Group. "There was a slightly burned rafter in the attic area where we believe the lightning struck".
The pictures show the smashed and burnt toilet seat and fan in the bathroom. Hurt also mentioned that the crew had a little fire in the insulation to put out.
"I've worked at the fire department for 19 years and never seen anything like it", Okmulgee Fire Lt. Rocky Morrow said describing the scene.
The apartment complex told local television station KWCH that the unit was vacant but would be rented out in the following days.
Morrow also said that the storms that day were unlike anything he'd ever seen, with flooding on practically every street in town and scores of water rescues. Luckily, there were no recorded fatalities in the area.

"It is just so wild. You'll never see it again in your life", Morrow continued. "It's almost like an act of God. I mean it's just unexplainable", Morrow commented.
Taking a shower or bath, including dishwashing and handwashing during a lightning storm is dangerous, and it's confirmed by the Centers for Disease Control and Prevention because lightning can travel through plumbing. In addition, the National Weather Service recommends avoiding plumbing too.