A robot "intended to be friendly"
Elon Musk presented the Tesla Bot, his company's first humanoid robot, which employs the same artificial intelligence that controls autonomous cars. During Musk's presentation, however, neither a prototype nor a demo version of the robot was shown.
Musk gave little specifics about the pretty frightening robot during Tesla's AI Day presentation, and the surprise announcement came to the conclusion. He anticipates the 5-foot-8-inch robot to weigh 125 pounds and be constructed of "lightweight materials." As a result, he pointed out, you'll be able to outpace the Tesla Bot but you will be able to "overpower" it if needed. He has previously spoken out against the use of robots as weapons and warned of the dangers that artificial intelligence could pose, calling it the "greatest risk we face as a civilization." As a result, robots should be slow and easy to defeat to lower the risk.
Its head will be equipped with the autopilot cameras that Tesla vehicles use to detect the environment, as well as a screen to show information. In addition, it will be controlled internally by Tesla's Full Self-Driving Computer.
"It's intended to be friendly", Musk joked, "and navigate through a world built for humans".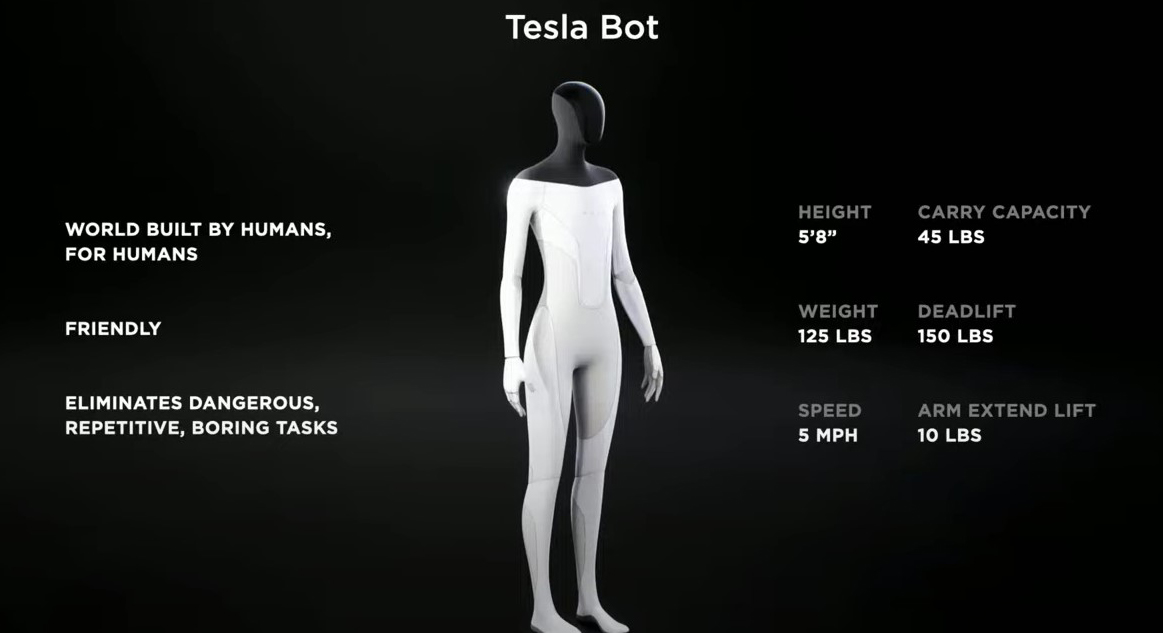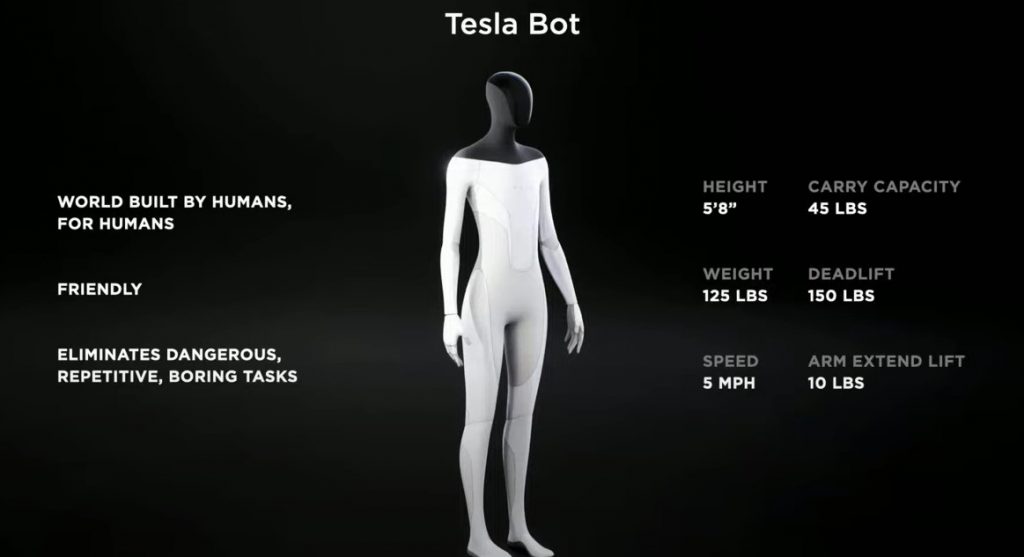 Before introducing the robot, Musk explained the A.I. upgrades of driving Tesla's electric vehicles, including the Dojo supercomputer, which helps train cars to navigate city streets without human assistance.
"We should be worried about AI", Musk reiterated during a question and answer session after the presentation. "What we're trying to do here at Tesla is make useful A.I. that people love and is… unequivocally good".
One particular slide said the Tesla Bot would eliminate "dangerous, repetitive, boring tasks", and Musk provided an example, suggesting the robot could be told to "go to the store and get… the following groceries". Not a dangerous task, but you might find it repetitive and boring.
Moreover, Musk, talking about the future, also imagined the Tesla Bot having an important role in the way we'll experience work. "Essentially, in the future, physical work will be a choice. If you want to do it, you can, but you won't need to do it".
Musk said a prototype will likely be ready next year. 
The debate about the future of work and technology has been open for a long time although many still try to ignore or overlook the consequences of automation. Many jobs will be replaced by robots, A.I., and automation in general, others will no longer exist because useless. This should be the opportunity to think about the role of human beings who maybe are not intended for working but rather to think, to create, and where they are still forced to work, they should do what they like with less physical stress.
Source cnet.com